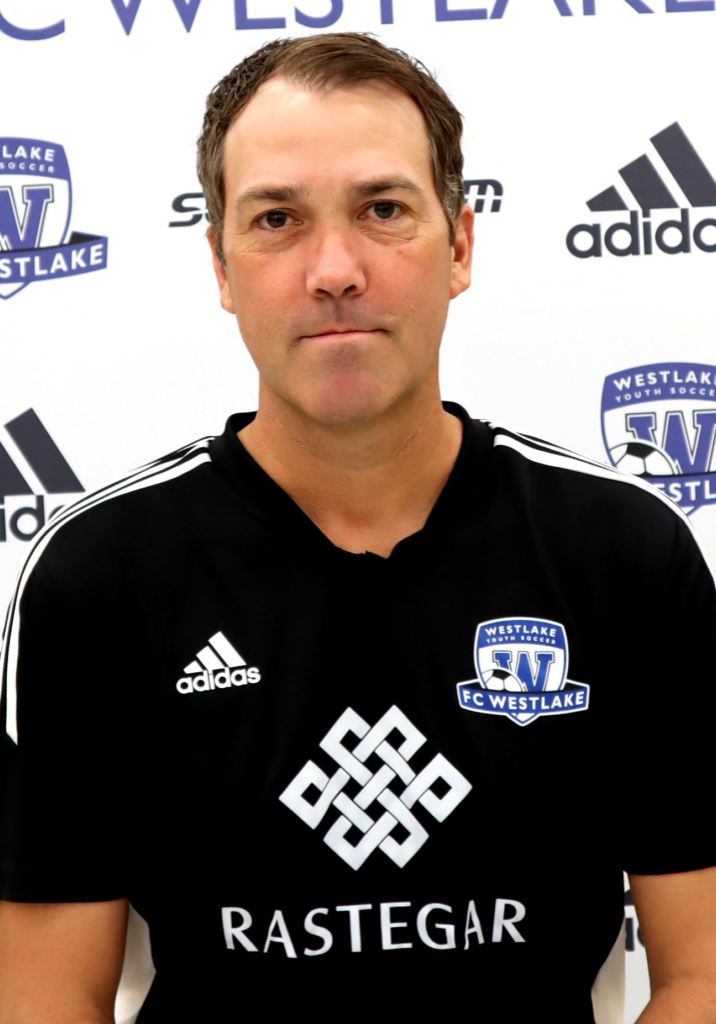 Birthplace: 
Cell: (512) 964-9641
Email: byoung@westlakesoccer.com
Qualifications:
US Soccer 'National A License

USSF Men's Youth National Team Network Scout (U14-U20 YNT)

NSCAA  Advanced National Diploma

NSCAA Goalkeeping License I & II

NSCAA National Youth License

USSF National Youth License
Brian Young grew up in Brunswick, Maine and has been coaching college soccer for past 24 years winning championships at the Division I, II, and III levels. Young came to FC Westlake from St. Edward's University where he spent 16 seasons as the Men's Soccer Head Coach and has the program's highest winning percentage while posting an overall record of 167-104-32 (.604) and a conference record of 104-44-12 (.688). Young's coaching achievements at SEU were highlighted in 2016 when he was honored with the Austin Soccer Foundation Lifetime Achievement Award and when he was named to the Heartland Conference Hall of Fame in 2019.
While at St. Edward's, Young has claimed five Heartland Conference regular-season titles, made the conference tounament each year (tournament champions in 2014,2015,& 2016) and appeared in five NCAA Tournaments, including hosting the first round for the first time in school history in 2016.
Young is also a proven developer of individual talent. He has coached 14 All-Americans, 67 All-region performers, and 88 All-Conference players. Young has also coached eight Heartland Conference Player of the Year honorees and is a six-time Heartland Coach of the Year recipient (2009, 2010, 2012, 2013, 2014 and 2015). Young led the Hilltoppers to the National Soccer Coaches Association of America (NSCAA)/Adidas Team Academic Award 13 times.
Young came to St. Edward's University after six years as the assistant men's soccer coach at Brown University in Providence, R.I. He helped the team win four Ivy League Championships and make four NCAA Division I Tournament appearances. In 1998, Young assisted the team when it went undefeated in Ivy play (first team in the Ivies since 1976). The 1999 squad advanced to the Sweet 16, while the 2000 squad made the Elite Eight. He assisted in coaching five all-Americans and 11 players who have been drafted in the annual Major League Soccer Superdraft or have signed Major League Soccer (MLS) contracts (FC Dallas, LA Galaxy, Kansas City Wizards, Columbus Crew and New England Revolution). While he was at Brown, the Bears posted an overall record of 61-35-10 (.576) and an Ivy League record of 28-8-5 (.683).
Prior to Brown University, Young spent a year as an assistant coach at Bates College, where he helped the team to the East College Athletic Conference Tournament and Bowdoin, Bates and Colby (BBC) Title. Young was also involved once again at the Division III level in 2020 when he helped coach the Concordia University Men's Soccer team to their school's first ASC Championship and first NCAA Tournament appearance as an assistant coach.
Young played collegiate soccer at the University of New Hampshire in Durham, N.H. During his senior season, the Wildcats finished with a 15-5-2 record in 1994, playing 11 matches against top 20 teams, while setting a school record for victories. New Hampshire captured the North Atlantic Conference's regular season championship that year and advanced to the NCAA Division I Men's Soccer Tournament for the first time in UNH history. Young earned All-North Atlantic Conference Tournament honors in 1993 and 1994. After graduating from UNH, Young played professionally with the Cape Cod Crusaders Soccer Club in the United States Interregional Soccer League from 1995 to 1997.